Client
Ministry of Mining and Energy, Serbia
Financing Institution
KfW Development Bank
Consortium Partner
RINA Consulting SpA, Envidatec GmbH, E3 Consulting, Simes Inzenjering d.o.o, National Alliance for Local Economic Development (NALED), Arhi.pro d.o.o
m4h Key Areas
Health & Social Infrastructure
Overall project value
The project's overarching goal is to ensure that consumers, the population, and the environment benefit from a sustainable, efficient, and reliable energy supply, thereby laying the groundwork for Serbia's convergence with the European Union. The primary focus of the project is the sustainable and substantial reduction of energy consumption at the VMA Hospital, along with a corresponding decrease in Greenhouse Gas emissions thus contributing to a more sustainable and environmentally responsible energy supply in Serbia. This transformation also seeks to enhance the quality of hospital-specific usage requirements through a holistic refurbishment approach.
Project Description
The VMA, affiliated with the University of Belgrade, is one of Europe's largest hospitals and is considered a flagship facility because of its high medical standards. Operating since 1982, the largest and most important hospital in no longer meets modern technological and energy standards. As with many buildings in Serbia, the VMA's energy balance in its current state is not particularly favourable. The overall energy intensity is four times and CO2 emissions six times higher than the average in EU countries. To date, the VMA itself requires about twice as much electricity as a medium-sized German hospital, 2.5 times more heat and 5 times more water.
To address these issues, KfW and the EU are financing a comprehensive renovation of this flagship Belgrade hospital. The project is titled "Energy Efficiency in Public Buildings and Renewable Energies in the District Heating Sector (Greening the Public Sector)".
The project adopts a holistic "deep renovation" approach, emphasising the complete rehabilitation of buildings rather than individual measures. This approach adapts project measures to the specific needs of the building, encompassing structural, comfort, and energy efficiency measures. It also includes improvements in energy control and the optimisation of building operations. Comprehensive renovation will not only allow hospital operations to run more smoothly, but the more modern facilities will also save energy and water, and thus costs. The rehabilitation of VMA Hospital encompasses four key areas of intervention:
Structural Measures: This includes critical elements for building serviceability, such as fire protection, sewerage/drainage systems, roof repairs, façade upgrades, electrical power system enhancements, and structural expansion/reconstruction.
Comfort Measures: Enhancements to improve user comfort and working conditions, including improvements in summer heat protection, renewal of sanitary rooms, floor coverings, interior improvements, and additional equipment for common areas.
Energy Efficiency Measures: Focused on improving the energy performance of the buildings through various means, including additional thermal insulation layers, heating system upgrades, exterior wall and window improvements, and the implementation of external sunshades and solar and biomass energy systems.
Hospital Function-Related Measures: This includes the upgrading or installation of fire safety, hygiene and general comfort improvements, energy-efficient reconstruction of operating theatres (OT) and intensive care (IC) units, as well as internal building refurbishment in selected areas.
Scope of Work & Results
The services provided involve the energy-efficient rehabilitation and modernisation of VMA Hospital in Belgrade. This includes:
The replacement of windows
Structural repairs
Automation system enhancements
Improvements in lighting, fire protection, hygiene, cooling, heating, ventilation, and steam provision
Planning, design, and preparation of tender documents for the DH-System of VMA, including related Boiler(s)
The renewal of roofs
Insulation of ceilings in unheated rooms
Thermal insulation to the façade
Renewal of the external façade
Cleaning of remaining panels
Restructuring of OT and IC areas
management4health is the leading consultant of the implementation consortium responsible to provide the following services from inception until project handover:
Project Management Office Services
Design and Procurement Management
Cost Management
Energy advisory services
Design & Engineering services
Site supervision services
Challenges we overcame
The VMA Hospital is an important facility with 15 floors, over 1,200 beds, and more than 180,000 square feet of space. It houses 17 operating theatres and accommodates over 400,000 patients annually. Given these dimensions, the hospital's operation cannot afford any disruptions. This complexity demands the need for implementing the measures while ensuring that daily medical services continue without interruption during the renovation.
The technical infrastructure is outdated and requires careful consideration to ensure compatibility with modern energy efficiency solutions. Upgrading the technical systems, such as heating, ventilation, and electrical systems, poses additional challenges, as they need to seamlessly integrate with the new improvements while meeting the unique demands of a large healthcare facility.
Energy Audit Measurements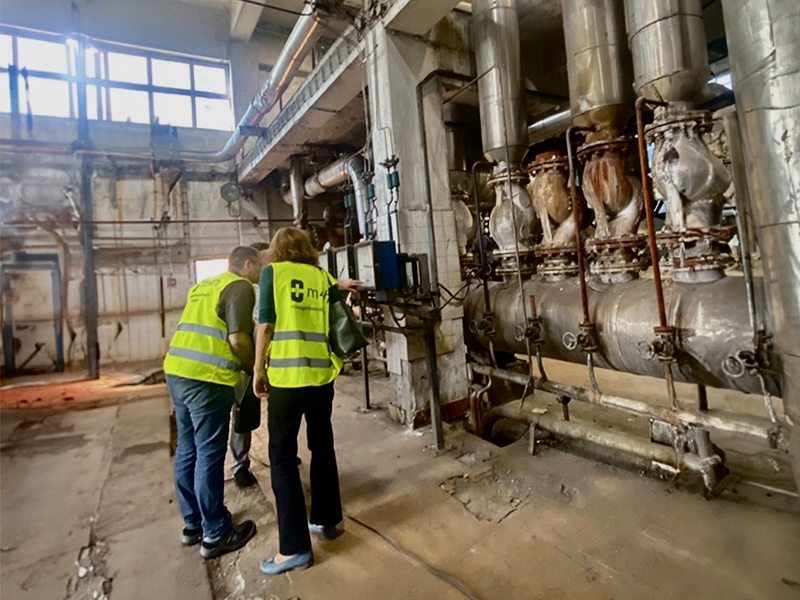 Assessment of technical areas