Date
09/2020 – 03/2024
Country
Nepal
Client
KfW Development Bank
Financing Institution
German Federal Ministry for Economic Cooperation and Development
Consortium Partner
MEH Consultants (P.) Ltd
m4h Key Areas
Health & Social Infrastructure
Overall project value
Provide expertise in health facility assessment and planning to identify facilities and interventions that are most needed for the project and the planned developments in the Nepalese health system. This includes the identification of health facilities, sequencing of their rehabilitation given the available budget and the design development, as well as the preparation of full feasibility study and designs of the agreed facilities.
Provide expertise in healthcare facility design, engineering design, tendering and construction supervision to the Project Executing Agency (PEA) to ensure an effectual realisation of the project and compliance of all facilities with the requirements of the Environmental and Social Management Plan (ESMP) and energy efficiency standards adaptable to the Nepalese conditions.
Support the PEA in equipping the facilities to ensure availability of high-quality healthcare services.
Provide institutional expert support to ensure proper operation of the project, including the introduction of eHealth /digital services, waste management and improving quality of care.
Project description
A 7.6 magnitude earthquake struck Barpak, about 76 km northwest of Kathmandu, on 25 April 2015, at 11:56 a.m. local time. This earthquake is estimated to have affected the lives of eight million people, or nearly one-third of Nepal's population. The devastation was widespread, affecting residential and government buildings, as well as critical infrastructure such as health posts and hospitals. The National Reconstruction Association (NRA) and the Ministry of Health and Population (MoHP) are currently in charge of overseeing and implementing recovery projects in the health sector.
The German government has provided the Federal Democratic Republic of Nepal with 25 million EUR in grant funds as part of the German Financial Cooperation (FC) to help rebuild infrastructure damaged by the 2015 earthquake.
As the PEA, the Ministry of Health and Population is in charge of overall project execution. The MoHP will appoint a coordinator from the newly formed Health Coordination Division to oversee the project's implementation. Local municipalities are responsible for the management of health facilities (HFs) up to 15-bed hospitals under the newly developing decentralised federal system.
The consortium m4h/MEH supports MoHP with the implementation of investment measures and accompanying measures.
Scope of work
General project management:
Coordination of the project and stakeholders
Preparatory environmental social health and safety activities
Financial and disbursement management
Monitoring and reporting
Health facility assessment, planning, design:
Inception feasibility study and selection of facilities
Preliminary and detailed designs
Tendering and construction supervision:
Procurement of civil works
Procurement of medical and non-medical equipment
Construction supervision and supervision of the Defects' Liability Period
Accompanying measures:
Training needs assessment
Accompanying measures' action plan and training implementation
Results
1. Up to September 2022: Inception phase including full Updated Feasibility Study Report and Inception Report
2. Selection of four health facilities to receive funding for reconstruction:
Sankhu Primary Hospital Level B2
Melbisauni Primary Hospital Level B3
Jhaukhel Health Post Level 2
Dolakha Health Post Level 4
3. Finalised concept designs and preliminary design report
4. Finalised detailed designs and detailed design report including full tender documents.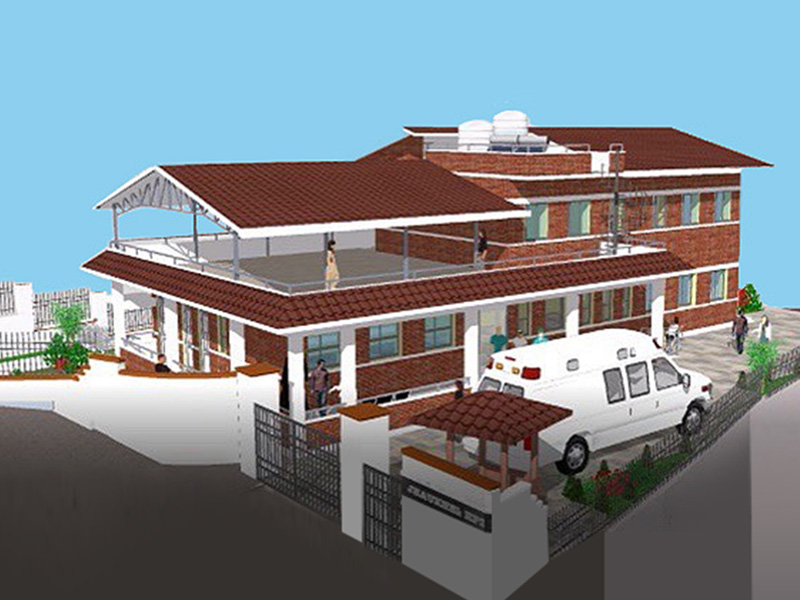 3D animation model of the improved Jhaukhel Health Post
Current state of the Jhaukhel Health Post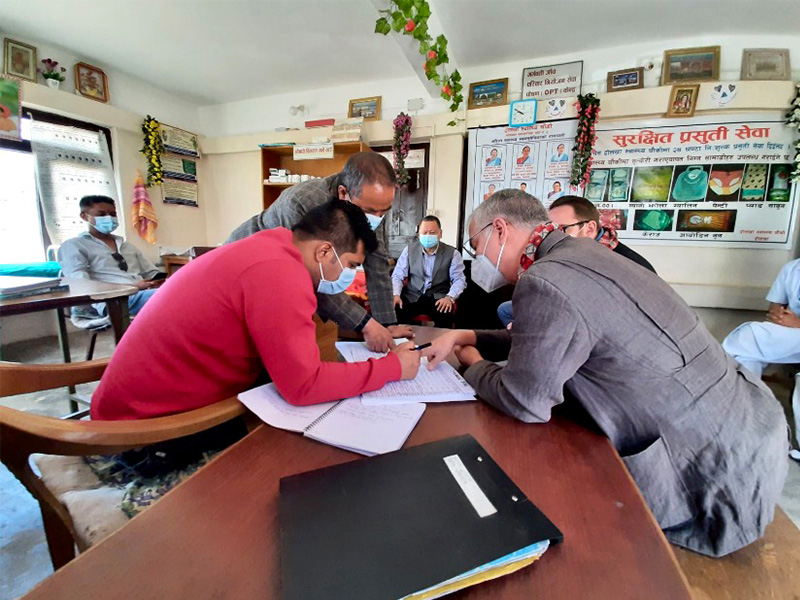 Review of captured health data at Dolakha Health Post during assessment visit in April/May 2021