Date
10/2020 – 05/2023
Country
Ukraine
Client
Ukrainian Social Investment Fund
Financing Institution
KfW Development Bank
Consortium Partner
n/a
m4h Key Areas
Health & Social Infrastructure, Health Services
Overall project value
The main objective of the project is to contribute to the strengthening of primary health care at selected locations in Eastern Ukraine.
Establishment of patient-friendly and energy-efficient renovation of infrastructure and the provision of medical equipment at selected project locations in the five targeted oblasts.
Project description
Within the framework of the German-Ukrainian co-operation, the Ukrainian Social Investment Fund (USIF) and the German Development Bank, KfW have signed additional Project Agreements to fund the "Improvement of Rural Basic Health Project" (USIF VII). We, m4h, were the International Consultant for Phase VII of the project, which was scheduled to conclude on 30.04.2023 but was postponed due to the Russian invasion of Ukraine (IC).
As in previous phases of this Project, there were expected to be immediate and indirect benefits for internally displaced persons (IDPs) fleeing military clashes between the Ukrainian government and armed separatists as a result of the improvement and rehabilitation of existing social infrastructure in the Project region.
In May 2022 it was agreed between USIF, KfW and m4h to combine the measures remaining under USIF VII into the ongoing Consulting Contract for the successor USIF VIII phase, as due to the continuing conflict the scope of intervention is very unclear to this point.
Scope of work
The Project itself has three distinct, yet interrelated components:
Infrastructure component: Around 40 primary health care facilities (SPs) are planned to be rehabilitated and fully utilised by the end of the Project.
Training measures for stakeholders: Intensive training provided for USIF staff, medical doctors and staff of beneficiary communities and local / self-government authorities in respect to energy efficiency of buildings and spaces as well as the maintenance of infrastructure.
Procurement of furniture and medical equipment: All rehabilitated primary health facilities are furnished and equipped with modern and appropriate medical instruments and equipment, and with basic medicinal provisions.
This includes in detail:
Assistance in planning (improvement of designs; preparation of tender documents; support to municipalities during preparation of project documents; etc.);
Assistance in tendering and contracting: Ensuring that processes are in line with the rules and procedures of USIF accepted by KfW;
Support in construction supervision and disbursement management;
Assistance in developing the ESMF (Environmental and Social Management Framework) and the Sub-projects' (SPs) Project Area Environmental and Social Management Plans (PA-ESMPs)
Supporting the USIF in ensuring the highest level of compliance with occupational health and safety standards by the Contractors;
Monthly, quarterly, final and other reporting to the PEA and supporting the PEA in reporting to KfW;
Support in other project-implementing issues.
Results
Up to February 2022, USIF, supported by m4h, had commenced activities for 38 SPs, though in different stages of completion and further achievements at the central level as follows:
Design and cost estimate documentation (DED) was developed for the objects of 38 SPs;
Construction works were completed at the objects of 7 SPs;
Construction works were in progress at the objects of further 23 SPs and newly launched at the objects of 4 SPs;
The Project Environmental and Social Management Framework was further updated and posted on USIF website;
All Environmental and Social Management Plans (ESMPs) were posted on USIF and partners' websites for public consultations;
Required laboratory equipment worth EUR 175,000 was procured and delivered to partner medical institutions;
Final preparations for the launch of implementation of a comprehensive training programme for physicians, partner medical institutions' managers, representatives of self-government and regional authorities, responsible for medical matters were conducted.
After the Russian attack on Ukraine, it has become clear that the project cannot be finished as planned. m4h is supporting USIF to re-develop the scope of the intervention and to supervise all activities still possible during the war, including construction works in areas still under control by the Ukrainian Government.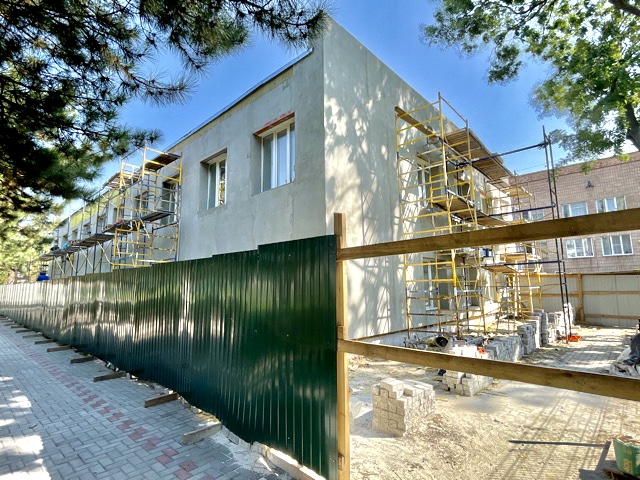 Ongoing construction works (facade insulation) SP Mariupol
Opening ceremony, SP Zachepylivka